B.Sc. Environmental Sciences, Environmental Hydrology

Students in the program will learn about real environmental systems such as:
water, soils, air, forests, and rural/urban environments.
The bachelor program will bring the student an understanding of the fundamental natural sciences (chemistry, physics, and biology) as well as the ability to analyze and understand natural processes in the environment. Furthermore, the student will learn to critically examine the interaction between man and nature and provide solutions for environmental problems. Training is comprehensive and a solid understanding of environmental systems will be obtained by the end of the program. The courses in this major contain a large practical component: excursions and field exercises, lab work, as well as guest lecturers from relevant professional fields.

One of the minors offered under the Environmental Sciences major is "Environmental Hydrology" which is comprised of the following courses:
List of open and submitted bachelor theses
General information about Bachelor thesis (slides)
Presentation of open Bachelor theses in 2021 (slides + online-video)
Arbeitsanleitung zur Durchführung von Bachelorarbeiten im Nebenfach Umwelthydrologie

External professional courses are offered through the center for key skills (Zentrum für Schlüsselqualifikationen). Courses include computer programming (C/C++, Java, R), management courses, etc.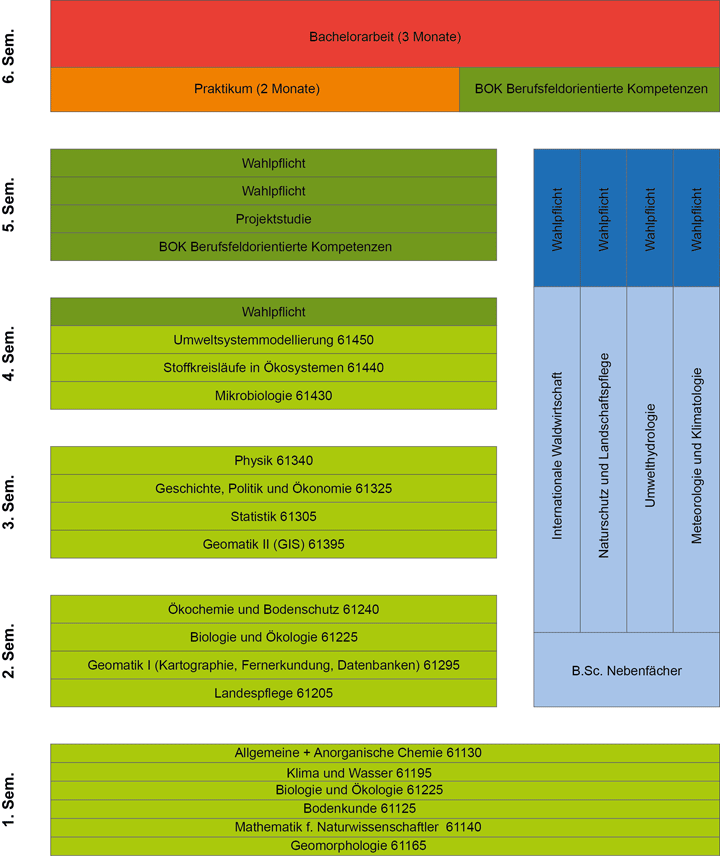 More information about the B.Sc Environmental Science is available on the forest and environmental sciences homepage . The minor "Environmental Hydrology" can be declared at the beginning of the B.Sc program for those interested in the field of hydrology.